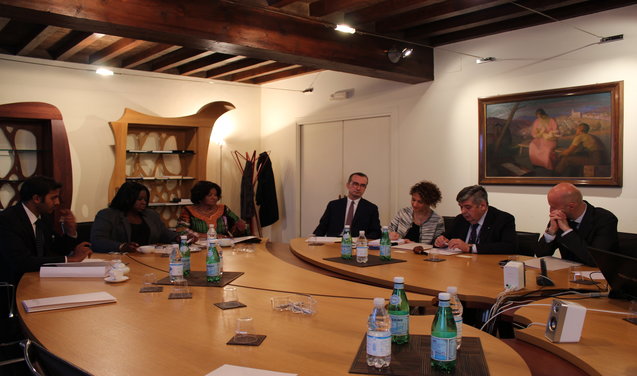 The Embassy of Ghana meets with the institutional bodies of Parma to initiate the follow up action after the President's visit
A delegation from the Embassy of Ghana, led by H.E. Mrs. Molly Anim-Addo, Ambassador and Mrs. Khadija Iddrisu, Minister Plenipotentiary, met with the key institutional players of the City of Parma on Tuesday 13th October 2015 to discuss and define the areas of collaboration in the agro processing value chain in general, and tomato processing in particular.
During the visit to the City of Parma of H.E. President John Dramani Mahama on 18th July 2015, both sides expressed the interest to cooperate and support the President's wish of 'making Ghana the Parma of West Africa' (Agro-food processing hub of Africa).
The meeting, which was successfully organized by the Union of Industrialists of Parma (UPI) at its headquarters, was aimed at defining a framework of cooperation between the two countries. The meeting concluded with the Italian side agreeing to bring up a proposal, for consideration by the Ghanaian side, which among others will include a visit to Ghana to inspect the existing infrastructure of the tomato processing factories, and also hold a meeting with the stakeholders in Ghana. Among the participants on the roundtable were: Mr. Cristiano Casa, Deputy Mayor of the City of Parma; Prof. Gabriele Canali, Associate Professor of Agricultural and Food Economics and Policy of the University of Piacenza; Prof. Cesare Azzali, Director of the UPI; Mr. Andrea Zanlari, President of the Chamber of Commerce of Parma; Dr. Davide Menozzi from the Department of Agro-Food Economics of the University of Parma and Ms. Laetitia Siea, Economy, Business Trade and Territorial Development Manager of UPI.